Global Elite: Silicon Valley meets Entourage
Anders Morgenthaler and Allan Hyde, Animation Director & Screenwriter
Silicon Valley meets Entourage in 'Global Elite', a comedy series about 5 young men, who are joint in one passion – to play Counter Strike.
They are fighting to make something of themselves, claim an identity and escape the small town where they have lived their whole lives. So they form a Counter-Strike team – but it is not as straight forward as they think.
Animation director Anders Morgenthaler and screenwriter Allan Hyde join us for a chat about the process of creating the tv-series Global Elite based on thorough research in e-sport communities.
They based the story on a great love for the people and the environment, but will definitely also make us laugh by pushing all the right geeky buttons.
Info:
Session: Global Elite – 'Silicon Valley' meets 'Entourage'
Date: October 30th, 2019
Time: 4 PM – 4.30 PM
Venue: Studio 1, Filmby Aarhus
Read more: Counter Strike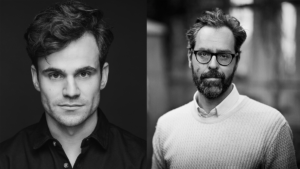 Skuespiller Allan Hyde (©HEIN Photography)