SERIES AWARDS is a celebration to the Danish and Nordic series industry. SERIES AWARDS is the first award in the Nordics dedicated to series – with 11 different categories, ranging from Best Miniseries to Best Script.
SERIES AWARDS 2022 is created in collaboration with Pineapple Entertainment.
Alle nominations have been revealed – check them out here.
SERIES AWARDS is held Thursday, November 3, 2022.
This year's hosts will be the actor brothers Andreas and Sebastian Jessen who will guide us through the show.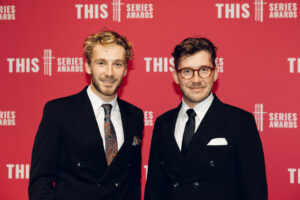 All tickets for SERIES AWARDS 2022 are sold out – sign up for the waiting list here.
INFO
Date
November 3
Time
7 PM – 9 PM: Studie 1, Filmbyen 21, 8000 Aarhus C
9 PM – 01 AM: Afterparty in Turbinehallen, Kalkværksvej 12, 8000 Aarhus C
Venue
Studie 1, Filmbyen 21, 8000 Aarhus
Language
Danish
HOSTS
Andreas Jessen, actor
Sebastian Jessen, actor
Read more here