The End of Innocence and Ignorance?
How COVID-19, Current Affairs, and Major Civil Movements are Changing Storytelling as We Know It
COVID-19, #Metoo, Black Lives Matter (BLM), Circular Economy (Circularity), virtual interactions and Work From Home (WFH), the rapid development of artificial intelligence (AI), the rise of China (Chinafication), Deep Fake and much more.
The last year has brought us huge changes with consequences in terms of behavior, politics, consumerism, communication – and the stories we need to tell.
Whereas micro trends are constantly in the making, adding up to become megatrends like developments in AI, the last year has also brought us "wild cards" or "black swans" that were hard to anticipate. Even people's dreams are radically changing!
In this talk, Brian Due and Timme B. Munk will present what they consider to be the key trends storytellers should listen to right now.
Brian Due, Ph.D., is an associate professor of communication at the University of Copenhagen, Department of Nordic Studies and Linguistics and executive consultant, offering strategic advice on communication, branding, and emerging trends. He has been researching social interaction and communication in the intersection between basic and applied research for the last decade. He has published +200 articles and book chapters and four books, the latest being: "Langt fra Silicon Valley. Digital transformation i danske virksomheder".
Timme B. Munk, Ph.D. & Post.Doc., is CEO and chief editor at Kommunikationsforum. He is a well-known trend expert on consumer trends and trends in communication and social media. He holds a Ph.D. on the knowledge society and evolution of the social web. He has published extensively on the role of knowledge in society.
Session: The End of Innocence and Ignorance? How COVID-19, Current Affairs, and Major Civil Movements are Changing Storytelling as We Know It
Date: October 29, 2020
Time: 9.45 AM – 10.15 AM
Venue: Filmby Aarhus, Studio 1 (Max 200 pers.)
Read more: Kommunikationsforum.dk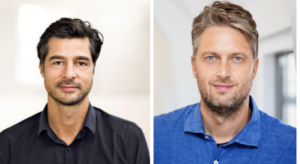 Brian Due, Ph.D., Associate Professor of Communication at the University of Copenhagen, and Timme B. Munk, Post.Doc, CEO & Chief Editor at Kommunikationsforum