Natten til lørdag (The Night before Saturday)
Screenwriters Asger Kjær & Rikke Frøbert, & Director Cecilie McNair
Premiere: December 2019
'Natten til lørdag' (The Night before Saturday) is a new teen drama from the Danish Broadcasting Corporation, DR. The theme is understanding your own and others' sexual boundaries and embracing them.
Over the course of three episodes we see the same night – at a gymnasium (high school) party the night before Saturday – through the eyes of the three different main characters; Karl, Rosa, and Ida.
They are all young and beginners in the sexual game. The 3 main characters are beginning to move into a world of beating hearts, parties and crossing lines. When do you define yourselves as a couple? How do you read other people's signals? And can it end in an sexual assault?
Experience the screening of all 3 episodes and meet the creators.
The series premieres on Danish DR3 and streaming on DRTV in December 2019.
Info
Session: Natten til Lørdag (The Night before Saturday)
Date: October 29th, 2019
Time: 4 PM – 5.30 PM
Venue: Øst for Paradis, Sal B
(This session will be in Danish)
Session host: Henrik Højer
Production: DR Drama
Broadcaster: Danish Broadcasting Coorporation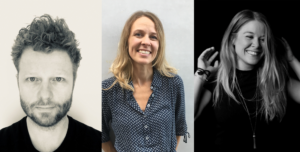 Read More: Asger Kjær, Rikke Frøbert & Cecilie McNair